Unlock Simple Network Segmentation with Elisity
Embrace simplicity in securing your network. Navigate the challenges of network segmentation effortlessly with Elisity's Identity-Based Microsegmentation. Discover how our advanced, context-aware policies for users, devices, and applications transform your security posture.
Intelligent Classification
Gain Complete Network Visibility with IdentityGraph™
Take control of your network. Transform switches into sensors and monitor device and user data with our innovative IdentityGraph™. It's time to understand your network like never before.
Deploy Virtual Edges at all your sites
Monitor and glean device and user data

Integrate with

existing

systems for identity and

inventory systems for rich identity, inventory, and vulnerability

Gain unprecedented visibility and understanding of your

network and organize assets logically by identity and context
Discover Intelligent Asset Classification
Empower your business stakeholders. Classify and organize your assets for policy enforcement using Elisity's Learning Mode. Design and test initial policy strategies that make sense for your business.
Identify, classify devices, users, and applications
Organize your assets into logical groupings
Collaborate with business stakeholders to understand usage and needs
Design and test initial policy strategies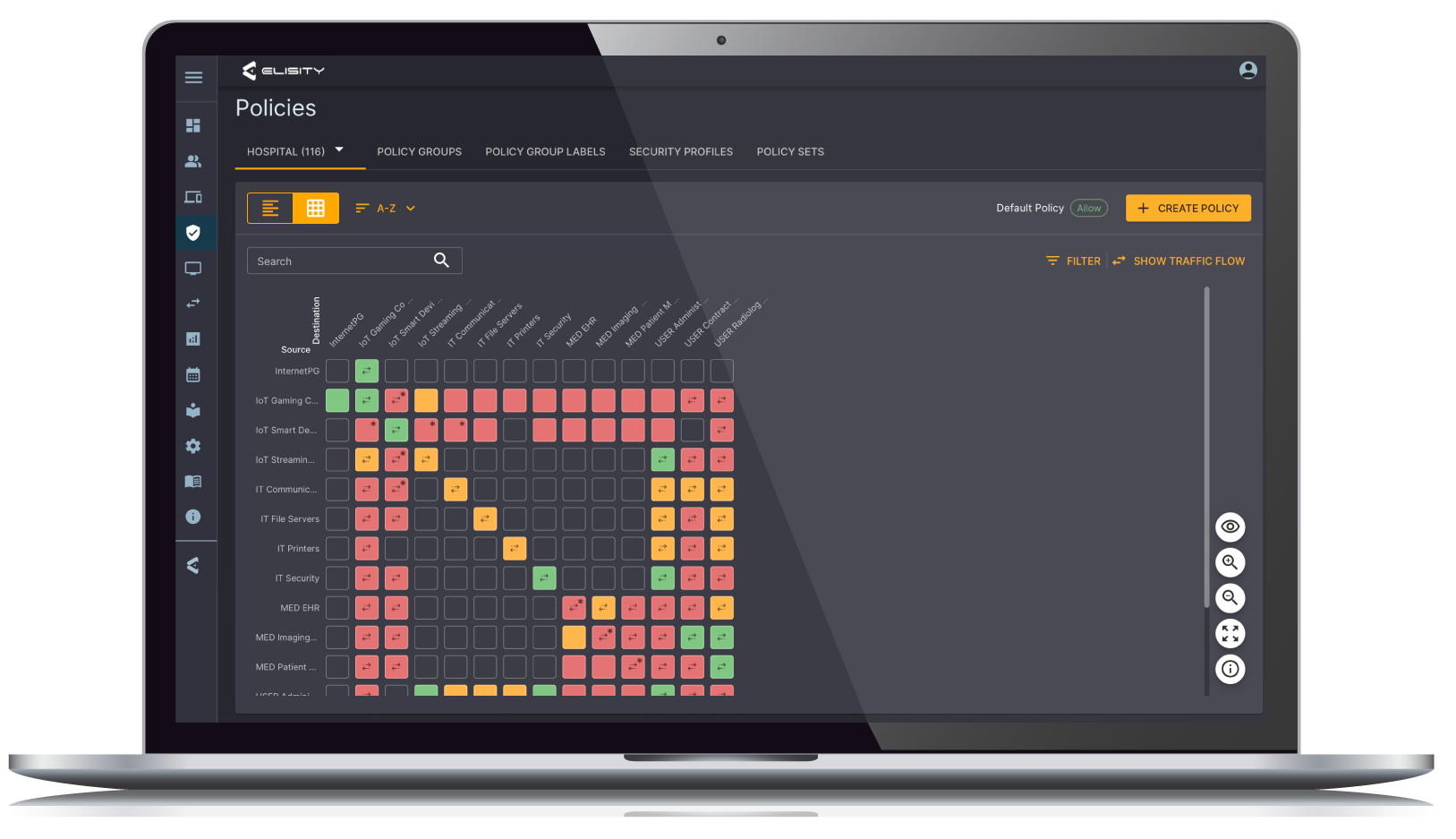 "Elisity's solution is a game-changer. Its intelligent asset classification, visibility and rapid policy enforcement have allowed us to monitor and secure our network in ways we couldn't have imagined."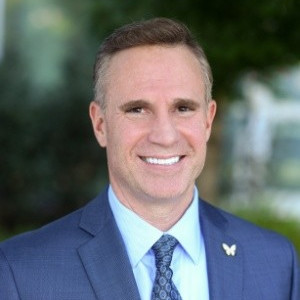 Steve Garske, PhD, MSc, MBA
CIO & CISO at Logan Health
Engage in Risk-Free Policy Simulation
Implement policies with confidence. Preview policy impact, identify issues, refine policies, and establish a rollout plan for your network in full production with Elisity's Simulation Mode.
Test policies in production environment
Identify and fix any issues or gaps in the policies
Refine policy to ensure it is efficient and effective
Roll out policies to your entire network with confidence
Elisity deploys into your existing network in as little as 30 minutes.
Achieve Fast, Non-Disruptive Deployment
No more complexity. Deploy our solution in a matter of hours, leveraging your existing hardware investments. Say goodbye to reliance on VLANs, IPs, or ACLs, and embrace smooth implementation with no operational disruption.
Leverage existing hardware investments
Deploy rapidly on your infrastructure
Bypass the complexities of VLANs, IPs, or ACLs
No downtime during Elisity software implementation
"Elisity has surpassed all our expectations. We had it deployed at two of our sites in less than an hour, and by the next day, we were confidently implementing policies. This speed and effectiveness are unprecedented, making Elisity an indispensable part of our network security strategy."
Max E.
Chief Information Security Officer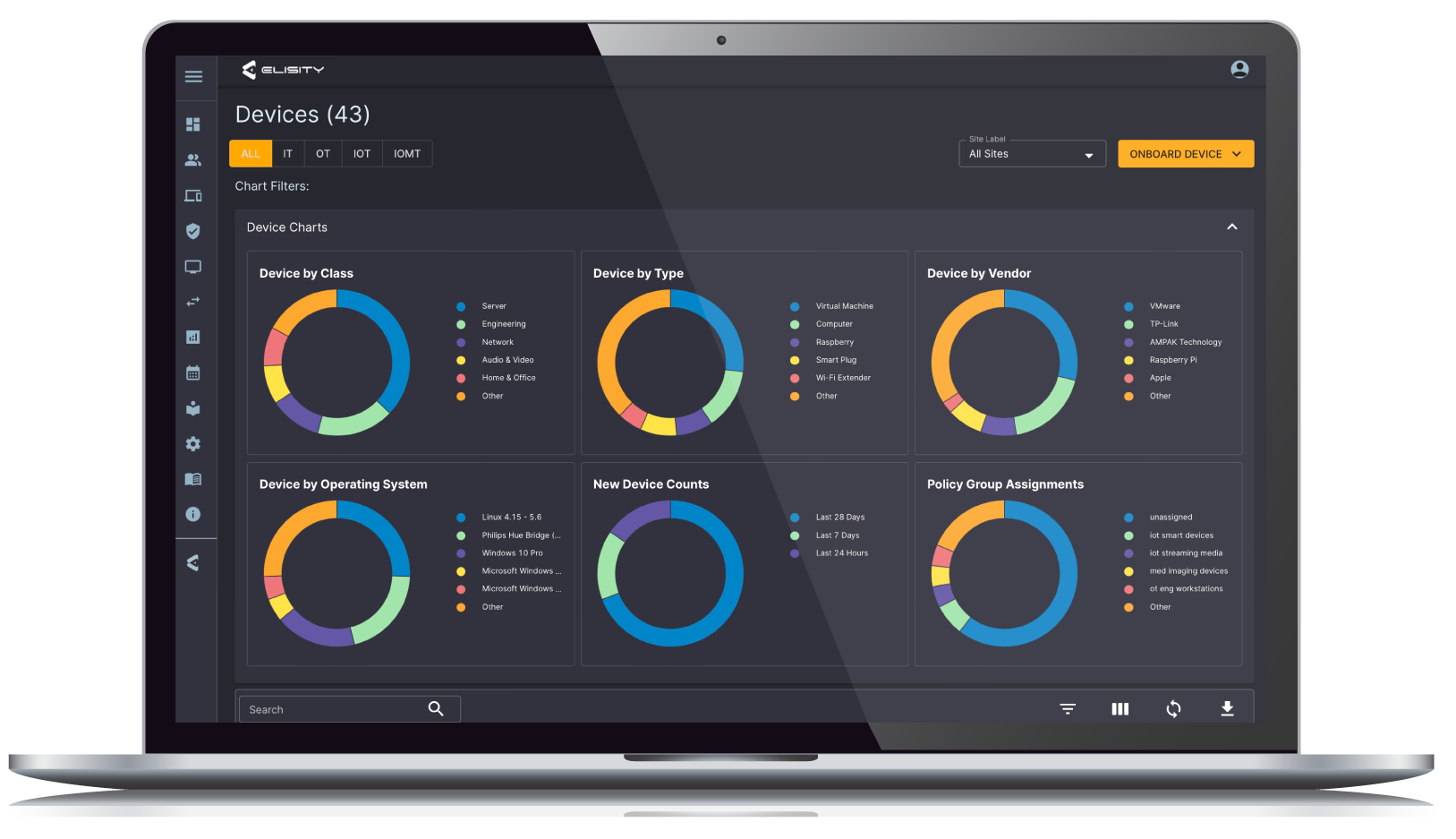 Experience Rapid Expansion
Minimize disruption and assess impact with our phased deployment approach. Monitor network traffic, identify any issues or exceptions, and refine your policies over time for maximum security.
Deploy policy in waves to minimize disruption
Group waves into logical steps for efficient rollout
Monitor network traffic and identify exceptions
Refine, tune and perfect your policies over time
Secure Patient Care
Protect against lateral movements, safeguard patient care.
Secure Patient Care
Ready to Get Started?
Secure Your Network Now
Don't let threats take you by surprise. Reclaim control of your network's security posture with Elisity. Unlock enhanced threat detection and policy management capabilities to achieve cybersecurity objectives confidently.